Sturtevant Sample Grinder
Product Announcement from Sturtevant Inc.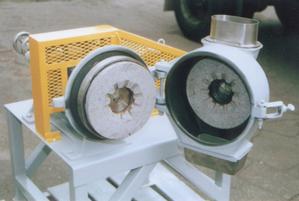 The Sample Grinders are of the "Open Door" disc type and are capable of very fine work, producing products as fine as 100 mesh (coarser if desired) when working on dry, friable, soft, or moderately hard materials. In fact, they will do this on many hard rocks and ores, but with somewhat reduced capacities.
Applications
Benefits
Product fineness adjustable during operation
Uniform product size assured by spring-loaded grinding discs
Heavy-duty cast iron construction offers decades of dependable service
Various grinding discs available
Easy access to wear areas for inspection and maintenance
---