Electric Steam Boilers...ES Packaged
Product Announcement from Sussman Electric Boilers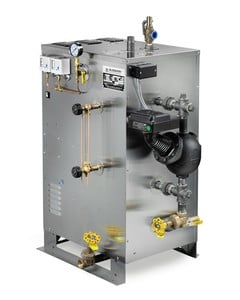 Sussman Electric Boilers - Suitable for industries requiring efficient, high quality saturated steam, including laboratories, hospitals, industrial plants, pilot plants, food and chemical processing applications.
These versatile generators, now with stainless steel jacketing, are perfect for almost any application requiring steam from 0-100 PSIG. Each unit is complete with automatic features, including pressure and liquid level controllers, ASME Code pressure vessel and safety valve and are fully tested under power. Each one must pass Sussman's rigid quality control inspection before it is shipped.
Sussman Electric Boilers - your source for fast economical steam energy.
ES SERIES FEATURES:
Safe easy -to-use heat source - No on-site products of combustion.
Easy, quick to install, they require only a water feed connection and electrical hook-up.
Applications include: Steam for tanks, reactors, distillations, autoclaves, dyestuffs, food products, cosmetics, paraffin, glues, steam jacketed kettles,sterilizers, cosmetics, pipe tracing and humidification.
Built to Section I, of ASME Boiler and Pressure Vessel Codes - UL listed and CSA certified.
ES-STANDARD FEATURES:
WATER FEED SYSTEM
Strainer, solenoid valve and check valve factory wired and plumbed.
LOW WATER CUT-OFF/LEVEL CONTROL
McDonnell Miller No. 150 control automatically maintains proper water level, shutting off the boiler when water supply in the boiler drops below a safe operating level.
WATER LEVEL SIGHT GLASS
Allows constant observation of water level while boiler is in operation.
MAIN ON/OFF SWITCH
Allows manual control of the boiler operating control circuit.
PILOT LIGHT
Indicates control circuit's on/off condition.
INTEGRAL POWER CONTACTORS
Magnetic contactors for energizing the boiler elements. Integrally mounted in the control unit.
BLOWDOWN/DRAIN VALVES
Facilitates emptying the boiler pressure level and MM150 water column piping during blowdown sequence.
LONG LIFE HEATING ELEMENTS
Industrial grade, heavy duty 0.420 inch diameter stainless steel heating elements equipped with one piece resistance welded terminations for added strength and safety.
OPERATING PRESSURE CONTROL
Resets automatically to maintain preset pressure within boiler.
ENERGY SAVINGS AND MINIMUM MAINTENANCE
Pressure vessel insulation minimizes heat loss and maximizes energy savings, insured by fibrous glass materials.
EASY CONTROL MAINTENANCE
All control panels and components are easily accessible. Fully-louvered openings avoid component heat build-up.
NEMA 1 Louvered enclosure standard
You have successfully added from to your part list.
---