High Efficiency Rectangular Separators
Product Announcement from SWECO, A Business Unit of M-I L.L.C.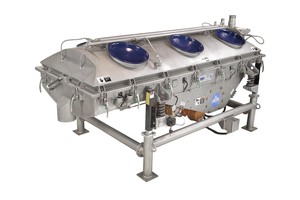 Sweco manufactures several different rectangulars to meet all of your separation needs: the V3 which offers both linear and elliptical motion for wet processing of highly viscous materials; the Round Motion which is perfect for both wet and dry processes; the Universal Motion which offers round, linear, elliptical, and balanced motions; the Multi-Motion which was engineered specifically for liquid/solid separation; and finally the Gyramax which maximizes productivity, provides maximum vibration control, and enables maximum recovery of clean acceptable product.
The most common elements of downtime have been engineered out of the Sweco rectangular, providing a nonstop operation. New technology adapts ultra-fine screen mesh for use in rectangular high-capacity separators (36 ft.2), yielding benefits previously found only on small circular screens. Fine-mesh screen panels can be installed in five minutes without tools on some models. Our simple patented drive mechanism has 3 motors rather than a complicated and expensive 3 shaft design. Sweco rectangulars are capable of high G-forces for improved solids conveyance and are easily adaptable to Clean in Place spraying systems.
Other features of Sweco rectangular separators include an "off-the-shelf" motor which provides reliable power; isolated mount suspension that virtually eliminates transmitted vibration; and a rear basket feed inlet with an internal baffle system that uniformly distributes flow to the screen bed. Additionally, to maximize the effectiveness of your system, the deck angles on Sweco rectangulars are adjustable, eliminating the loss of good material due to process changes.
---