Product Announcement from Syfer Technology Limited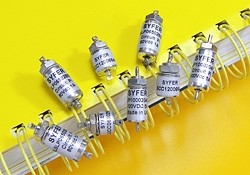 Syfer Launches a range of Hermetically sealed panel mount EMI filters.
Just announced by Syfer Technology is the SL range of EMI filters featuring hermetic construction, wound coil inductors and iron powder cores for improved insertion loss performance at high current ratings. Designed specifically for heavy duty military and aerospace applications, the panel mounted components include miniature feedthrough suppression capacitors, L-C and C-L feedthrough suppression filters and pi circuit feedthrough filters.
Electromagnetic compatibility continues to be a crucial requirement for the efficient operation of electronic equipment, particularly in the military arena where high frequency signals from communications, radar and other systems are common. The hermetic construction of the SL range of EMI filters provides essential protection in field-based equipment required to operate in a rugged environment. They are also suitable for use in other applications which are RoHS exempt.
The miniature feedthrough suppression capacitors are intended for general purpose applications and are suitable for filtering signal and power lines at voltages up to 450Vd.c. In the popular SLS package style, devices are available from 22nF to 2.8µF. They are current rated at 15A and feature a rated voltage from 80 to 450V dc. Various other case styles and a range of termination options are available.
The L-C and C-L feedthrough suppression filters are offered with current ratings up to 100A, with capacitance specified from 100nF to 2.8µF. The L-C or C-L circuit configurations of these filters give optimum performance where the capacitor faces a high impedance and the inductor faces a low impedance.
Meanwhile, the range of Pi circuit feedthrough filters, also destined for power and signal lines, feature a series of current and voltage ratings in a number of case styles. Capacitance can be specified from 20nF to 2.8µF. The Pi circuit configuration of these filters gives optimum performance across a range of varying impedance applications, or where a steeper insertion loss curve is required.
Additionally, the range also includes a selection of filters designed and tested to meet the requirements of WE772/Def-Stan 59-45/90/013. They are also available with a 4.7MO shunt resistor to prevent static charge and to ensure safe discharge of the capacitor.
All the filters are hermetically sealed screw-in panel mount filters with bright tin plated steel bodies and bright tin plated copper alloy conductors. The capacitive element is a low ESR high performance discoidal ceramic multilayer device.
The hermetic sealing provides environmental protection of the internal elements with zero outgassing.
Filters in the SLS case style include inductors (L-C or Pi configuration) can be supplied with wound coil or iron powder core inductors , offering maximum performance with minimal degradation of insertion loss due to through currents. All other filters incorporating inductors are fitted with conventional ferrite beads and are primarily intended for signal lines. They will carry current to the maximum rated value, but will provide reduced performance at maximum rated current.
Syfer's SL EMI filters utilise the stable X7R dielectric as standard, to achieve the optimum balance of stability and high capacitance over the temperature range -55°C to 125°C. Low capacitance ultra stable C0G parts are also available on demand.
These hermetically, panel mounting EMI filters are manufactured in the UK, and are available as samples immediately, or in production volumes. Syfer also offers an extensive range of standard SF EMI filters and surface mount feedthrough capacitors and filters, EMI power filters, X2Y integrated passive components and LTCC multi element high frequency filters.
You have successfully added from to your part list.
---