Product Announcement from Syfer Technology Limited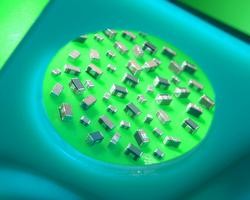 SURFACE MOUNT EMI FILTERS
Syfer has developed an ever-expanding range of surface mount EMI filters. Utilising our multilayer ceramic capacitor expertise, we are able to offer a range of EMI filter components suitable for a wide range of applications. The pi-filter range in particular leads the market in terms of capacitance, voltage and current range.

Please click on the links below to go to the appropriate product page.
EMI CHIP: E01 STYLE3 TERMINAL CHIP, 0805, 1206 & 1806C22pF - 200nF
EMI CHIP: E07 STYLEHIGH CURRENT EMI CHIP, 0805, 1206 & 1806C3.3nF, 22nF, 200nF
EMI CHIP: E03 STYLEBALANCED LINE CHIPS (X2Y)C10pF - 1.2µF
SBSP: SURFACE MOUNT1A RATED Pi-FILTERPi22pF - 150nF
SBSG: SURFACE MOUNT5A RATED Pi-FILTERS, 10A C FILTERSC & Pi1nF - 220nF
SBSM: SURFACE MOUNT10A RATED Pi-FILTERS, 20A C FILTERSC & Pi1nF - 470nF
DESIGN KIT: SURFACE MOUNTEMI FILTER DESIGN KITVARIOUSVARIOUS
You have successfully added from to your part list.
---