No-cure, 1-part Thermal Paste (Grease)
Product Announcement from TAICA Corporation (formerly Geltec Co., Ltd.)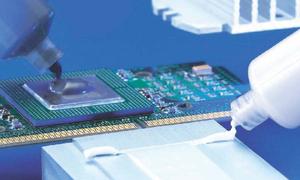 No-cure, 1-part thermal paste (grease) DP series:
*Easy to apply: 1-part, no-cure.
*Running and vaporization problems to nearly disappear due to cross-linked particle structure.
*High thermal conductivity up to 6.5 W/mK.
*REP-100 to retain electromagnetic noise absorption property.
Lambda GEL DP series are very soft thermal paste (grease) gel with up to 6.5W/mK thermal conductivity.
The cross-linked particle structure of the Lambda GEL nearly eliminates running and vaporization problems often seen with traditional grease or phase change materials.
About Alpha GEL and Taica Corporation
Silicone-based DP series are one of the Alpha GEL families.
Alpha gel is one of TAICA Corporation's umbrella brand, collectively given to their patented, multifunctional silicone gel. For over 20 years, 's softness has established unique and distinct position in vibration isolation, shock absorption, thermal conductivity, and comfortable feel in ways traditional solutions have fallen short.
An ordinary fresh raw egg dropped down from 18 meters high to a 2 cm thick Alpha Gel bed does not break. This outstanding shock absorbability and vibration damping capabilities have helped to meet with different shock absorbing requirements in sporting good and industrial markets globally over decades.
See more details for Alpha GEL and Taica Corporation, please click here.
---