UV Curing GEL "Alpha Gel series".
Product Announcement from TAICA Corporation (formerly Geltec Co., Ltd.)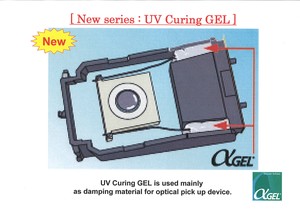 [New product :UV Curing GEL "Alpha Gel series".] *UV Curing GEL is applied to Micro Actuator for Optical Pick Up unit. -Micro Vibration damping, Shock absorption. -Cure time is very short. -We can custom-made to better fit your application. *UV Curing Gel is applied for water proof and micro vibration absorption. -UV Curing Gel is cured by UV easily. -You can reduce cost of assembly operation. *Successful and Possibility Application of UV Curing GEL. -Optical Pick Up Unit / Digital Camera / Digital camcorder / Mobile phone / etc. (For Micro Actuator / Micro Sensor / Micro Speaker.) we, Taica are R&D oriented company, therefore we can offer any solution to you. If you have any problem in your mind, please feel free to contact us. We are waiting for your message.
---