Vibration Damper Alpha GEL series
Product Announcement from TAICA Corporation (formerly Geltec Co., Ltd.)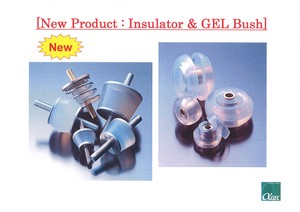 [New Products : Insulator & GEL Bush series.]
*The feature.
-Alpha GEL vibration insulator can absorb low frequency vibration, which is difficult to be isolated by conventional dampers such as rubber.
-With a proven record of more than 10 years in the field, Alpha GEL insulator protect the device from shock and vibration often the causes of signal malfunction.
-Alpha GEL isolators are ideal primarily for light-load items such as PC boards. Its softness and mechanically reinforced strength allow for miniaturization of the final product and ensure long-term high performance.
*Alpha GEL's advance performance.
-Excellent Cushioning and Vibration Damping Performance.
-Superior Durability.
-Stable Performance Even In a Harsh Environment.
-Extremely High Safety.
-Outstanding Platform for Additional Functions and Enhanced Performance.
*Successful and Possibility Application of Insulator & GEL Bush series.
-Pump / Machine device / Compressor / Measurement device / Medical device /
PC / Mobile Phone / Semiconductor device / HDD / Automobile / Mobile Game
Digital Camera / Router / Home electronics appliance / etc…
we, Taica are R&D company, therefore we can offer any solution to you.
If you have any problem in your mind, please feel free to contact us.
We are waiting for your message.
---