TAT 410 Series Pumps
Product Announcement from TAT Pumps, Inc.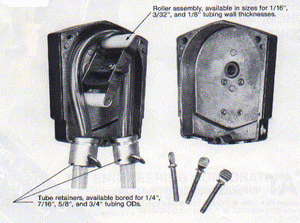 The TAT 410 SERIES Pumps: Built so Fluids Touch Only Extruded Tube with Pumping Elements Chosen For Chemical Compatibility.
Features:
Flow rates from 1/4 CC to nearly 60 gallons per hour.
Suction lift to 28 feet, vacuums to 30 inches of mercury.
Discharge pressures to 40 psi. 100 psi with special tubings.
Viscosities to 10,000 centipoise.
Adapts to different services by a simple change of tubing.
Split head opens easily for ready access.
No need to replace pump head to change capacity.
Accommodates different tubing diameters and/or wall thickness.
Head may be equipped with 1/8", 1/4", 3/8", or 1/2" ID extruded tubing, and operated to 200 RPM.
Basic flow data:
1/8" ID tubing -- 1.6 CC/REV.
1/4" ID tubing -- 6.0 CC/REV.
3/8" ID tubing -- 11.0 CC/REV.
1/2" ID tubing -- 18.0 CC/REV.
---