Product Announcement from TEAM Industrial Services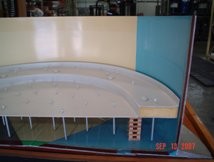 Tank Roof Repair - An alternative solution to a common problem. Storage tanks provide capacity to terminals, refineries and chemical plants. Shutting down operations on a storage tank can negatively impact plant operations and productivity. TEAM'S Leak Repair Service provides an effective and cost-effective solution which doesn't require taking the tank out of service.
Multiple Environments, One Solution
TEAM Industrial Services is GLOBAL in operations for engineered solutions and sealants; TEAM'S expertise addresses a wide range of tank roof and shell repair situations. Suitable for most refinery products. Our repair technique combines an engineered-technically developed product with mechanical strength suitable for the application. The repairs can be completed to cone roof tanks or to EFR tanks with the roof floating in-service or landed in-service.
Leak Repair Specialists from TEAM have been technically trained with composite systems and advanced leak repair methods.
TEAM performs a full risk assessment and provides an engineered procedure, application guidelines, and safety plan prior to beginning repair to EFR or Cone Roof Tanks.
The TEAM leak repair method offers a quick, safe, and intelligent alternative to taking the tank out of service, stripping and degassing.
Once the repair is complete, operations may continue.
TEAM'S Tank Roof leak repair addresses the following items:
Cracked welds on roof deck sheets or lap patches
Pontoon leaks
Isolated pitting due to corrosion /holes on roof deck sheets
Roof deck leg sleeves
Thru wall corrosion on upper shell course at wind girder
External floating roof and cone roof repairs have been completed containing the following products:
Crude oil
Virgin Slop
Refined Slop
Mogas
Light Cat Naphtha
Heavy Cat Naphtha
Atmospheric Cracked Naphtha
Process Gas Oil
JP-5
Benzene
Heptane
Hexane
Sour water
You have successfully added from to your part list.
---