Technical Bolting Services
Service Detail from TEAM Industrial Services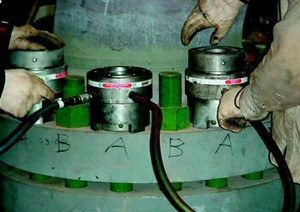 Team provides fast, economical technical bolting services for turnarounds and day-to-day maintenance, and can provide you trained, experienced technicians for large as well as small bolt torquing and tensioning jobs.
Advantages of Team's bolt torquing and tensioning program
Fast, accurate, reliable way to insure joint integrity
Greatly reduces/eliminates gasket leaks
Helps ensure leak-free startups
Multiple applications

Utilize for any size bolt torquing and tensioning job
Easily used in confined spaces
Ideal for offshore platforms, gathering/compressor stations, pipelines
Available worldwide
Uniform bolt loading
Overview of Team's Technical Bolting Services (TBS) Programs
Team applies proven techniques to the disassembly and assembly of bolted joints
Focus is on critical elements of overall joint integrity

Flange surface quality
Joint alignment
Gasket selection
Bolt preparation
Uniform bolt loading
Selection of best tightening method

ie - torquing or tensioning

Preload verification using ultrasonic equipment
Team's Joint Integrity Program
Strong field and engineering support strengthens Joint Integrity Program
All critical elements associated with bolted joint integrity are controlled
Flanged joints are inspected and restored to ANSI/API specifications
Joints are reassembled and properly aligned using the appropriate gaskets
Bolts and nuts are properly cleaned and lubricated
Bolts are tightened using the most appropriate method (torquing or tensioning) to achieve uniform bolt loading
Approved written procedures are used to bolt joint
Team's Quality Assurance Program
Structural integrity/leak-free bolted joints are QA/QC goals
Bolt tightness is verified
Ultrasonic measurement is utilized
Bolt elongation determines, residual preload
Sound inspection, assembly practices are utilized
Team's Specialty Bolt Torquing and Tensioning Services
Hot bolting

A proven, effective method of preparing bolted joints for disassembly prior to shutdown.
Bolts are loosened one bolt at a time (while in service and hot)
Lubricant is applied
Bolts are reassembled in order to ease cold disassembly, minimize galling

Nut splitting

Fast, sure, safe method of removing corroded, galled or seized nuts and bolts

Stud Removal

Achieved with special stud removal equipment
Team's Field Machining Services can drill out studs without damaging body thread when studs cannot be removed
You have successfully added from to your part list.
---