Valve Repair Services
Service Detail from TEAM Industrial Services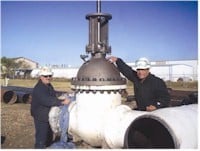 Team Industrial Services provides full valve repair services and maintenance programs for the world's industries.
Save time and money by repairing your large valves inline, onsite, or in one of Team's permanent valve repair facilities. New valves:
Are expensive
Require long manufacturing lead times
Require outage, shutdown, or turnaround windows for installation
Often require special engineering for rigging, restraint and safe removal
Are labor and equipment intensive, and expensive to install
Team's Valve Repair Programs offer one stop shop and field repair services throughout North America
Permanent shop facilities in Texas, Illinois, New Hampshire, Virginia, and Colorado
Mobile repair shops available for onsite, inline, around the clock repairs anywhere in North America
Team's more than 70 mechanical service facilities provides specialized industrial services to process and manufacturing plants throughout North America
Team is qualified to repair your valves
"VR" Certification for Shop and Field ASME Code Section: 1 & VIII Div 1 Test Media: Steam, Air / Gas & Liquid
"NR" Certification for Repair or Replacement of ASME Section Class 1, 2, 3 and MC Vessels, Parts and Appurtenances
"R" Certification Repairs and / or Alterations for Alvin Facility and Extended for Field Repairs and / or Alterations Controlled by the Alvin Facility
ISO 9001:2000 Quality Management Systems
ISO 14001:2004 Environmental System
NUPIC Certified
NADCAP Certified
NIAC Certified
AS9100 Certified
Take a Look at Team's Complete Range of Valve Repair Programs
Onsite Pre-testing and Repairs for HF and Sulfuric Alkalization PRVs
PSV Program for Steam, Air / Gas and Liquid Valve Repair for Shop and Field
OLSPV Program (on line set point verification) of PSV's
Low Pressure / Vacuum Vent Repair and Inspection Program
Process Manual Valve Repair Program for Refineries, Chemical Plants, Power Generation, and Pipelines
High Pressure Isolation Valve Program for 1500 and 2500 lbs Class Power Valves
Actuation Repair and Testing Program for Hydraulic, Pneumatic, Electrical and Manual Operators
Packing Emissions and Steam Packing Program
Control Valve Repair and Diagnostic Testing
Pipeline Valve Conversions, PM Maintenance, Repairs, and Testing (6D)
Commercial Barges and Commercial Marine Valve Services
Valve Management Data Base Program Field Seat Repairs - Machining, Grinding, Boring, Welding
Repair Services for any Valve Brand
Maintaining Your Valves in Optimum Working Condition Provides Direct Benefits for Your Operation
Team's Onsite Valve Repair and Machining Services Include:
Total valve inspection, machining, welding, repair, repacking, testing, and documentation
Mobile repair shops, trained technicians, and specialty equipment onsite around the clock
Complete repair, testing, and documentation services of Gate, Globe, Check, Plug, Ball, and Butterfly valves
Flange re-facing, in-line, boring, valve seat restoration, pressure seal restoration, specialty machining services
Portable valve grinding to recondition gate valve seats in-place
Use Team's Experience to Repair Your Safety and Safety Relief Valves
National Board Certified VR repair, documentation, and recalibration
In-shop and on-site repair
Qualified onsite valve repair service
VR repairs comply with the National Board VR Program
VR repairs can be tailored to customer specifications
Individualized valve testing/maintenance programs available
In-field Section I Weld-In Valve Seat Machining
PSV valve data management programs available to customers Technicians
Valve Repacking Services
Pneumatic packing removal, factory authorized re-packing installation service
Customize packing materials available for each valve application
Water and food grade mineral oil packing removal systems available
Valve surveys and gland load specifications performed
Braided packing materials available for all applications
High performance die form ring packing available for special applications
Live load system for high cycle valves available.
Electric Valve Actuator Services
Testing, documentation and repair services of electric actuators
In-shop or on-site
Pneumatic Actuator Services
Perform actuator output torque
Perform valve stem thrust checks
Perform torque switch trip calibrations
Limit switch settings
Check motor voltage
Check motor current
Check stem position
Check for leakage
Testing, documentation and repair of all brands; in-shop or on-site
Control Valve Repair Services
All control valves are repaired to manufacturer's specifications using OEM parts
In-shop or on-site repairs available
Field repairs for the main body and actuation on virtually all control valves available
Field calibration for actuation to main body synchronization available
Trim up-grades provided in the field
Inspection, re-machining, repair, testing, and documentation of quarter-turn and Globe style control valve services offered
Team Provides Field Service for the Power Industry's Forged Steel Valves
Complete testing, documentation and quality repair service for Pressure Seal:
Wedge Gate Valves
Parallel Slide Valves
Y Pattern Globe Valves
Piston Check Valves
Swing Check Valves
Tilting Disc Check Valves
Y Pattern Globe Type Drain Valves
Special power plant valve repair applications
Turbine and Main Steam Condensate Drains
Feed-water Heater Drains
Economizer Drains
Valve Bypass
Turbine Bearing Gland Isolation
Steam Drum Vents
Mud Drum Drains
Continuous Blow-down
Fly-ash / Gas Vent
Fill Valves Hold off
Turbine and Mainstream Drains
Typical Vents and Drains
Fill Valves Hold Off
Turbine Gland Seal Stop Valve
Above/Below Seal Drains
Bottom Blow-down Drain Valves
Attemperator System Valves
Continuous Blow-down
Fly-ash/Gas Vent
Fill Valves Hold off
PSV Set Point Verifications VR Program
ALD Testing for Welded in PSV's
API 527 Testing Specifications
PSV Testing on Site
Team Warranty
Manual Valve Testing
API 598 Specifications
API 6D Specifications
On-site Testing
Team Warranty
MOV Diagnostics
You have successfully added from to your part list.
---