Specialty Coatings
Product Announcement from TIGER Drylac Powder Coatings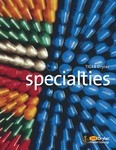 Specialty Coatings
TIGER Drylac Powder Coatings' best selling Bengal colors offer high gloss levels and exceptional flow properties. Products are available in 5 lb. minipacks as well as 44 lb. boxes (exceptions: Bengal White and Black are packed in 55 lb. boxes).
Steel Rack colors were formulated as economical solutions to match typical industry colors for industrial warehouse racking systems. They are available in minimum order quantities of 55 lb. Please note: SR Yellow, Orange and Red have limited UV stability.
TIGER Drylac Powder Coatings' popular Series 39 Volume industry products come in a variety of color choices ranging from smooth glossy to semi gloss, mattes, textures and metallics. Products are available in 5 lb. minipacks or 55 lb. boxes (exceptions: Bronze Matte Metallic and Silver are packaged in 44 lb. boxes).
Clear Coats: A variety of choices of clear coats are available, ranging from glossy to matte. All products are available in 5 lb. minipacks and 44 lb. boxes.
Out-gassing Forgiving: Our OGF Products are developed for castings, hot galvanized and forged parts, aluminum flame sprayed and other porous and out-gassing prone sub strates, such as fired clay and ceramics. Package sizes: 5 lb. minipacks and 55 lb. boxes (44 lb. for Chrome OGF). Please note: If stocked OFG color choices do not meet your requirements, we have an OGF additive available for purchase (in 3 lb. and 30 lb. packages), which may be added to our other stocked products in order to make them suitable for out-gassing prone substrates. For larger quantities (220 lb. minimum) we recommend and will be happy to provide OGF custom colors.
Wrinkles provide an attractive finishing solution for electronics and other metal cabinets, lighting fixtures, automotive accessories and more, as they offer concealment of metal imperfections. Package sizes are 5 lb. minipacks and 55 lb. boxes.
Polyester Urethanes: A wide selection of specific qualities and finishes are available in a range of black. Please consult your TIGER representative for recommendations for your applications. Package sizes are: 5 lb. minipacks and 44 lb. boxes (except for Solar Black and Black Magic, which are packed in 55 lb. boxes). Other colors can be custom ordered.
Anti-Graffiti: Antigraffiti Polyurethanes provide excellent chemical resistance and surface hardness properties. We offer White and Clear as stock products. Our Clear can be applied over any of our products to achieve a tough, cleanable surface. Please contact your nearest TIGER Drylac office or www.tigerdrylac.com for a brochure, including recommended graffiti cleaners, datasheet for application, or our certified laboratory test results. Package size: 5 lb. minipacks and 44 lb. boxes.

Exterior Mattes, Glossy's and Rough Texture Glossy Finishes: We offer a variety of exterior textured and glossy to matte products for every application. Uses range from economical automobile underbody powder coatings to highly chip resistant automotive and marine products and show room quality wet-paint looks. Please consult your TIGER Drylac representative for recommendations. Products are offered in 5 lb. minipacks and 55 lb. boxes (expect Wet Black, PacCar Black and Truck Black, which are packed in 44 lb. boxes).

High Heat Resistant Fine Texture Black features a heat stability of up to 600 deg F (315 deg. C). Gloss and adhesion are subject to degradation in time. Since product has a limited 6 month storage stability, back orders may be necessary. Please check stock with your regional TIGER office. Package sizes 5 lb. and 50 lb.

TIGER's High-Reflective White was developed for the lighting industry and strikes a perfect balance between smoothness and hiding power. It offers a reflectivity value of 92 + with a gloss level of 90 or greater. Package size is 5 lb. minipacks or 55 lb. boxes.
You have successfully added from to your part list.
---