Ethernet Connectivity Available
Product Announcement from TM Electronics, Inc.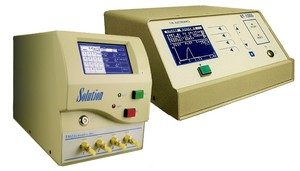 TM Electronics now has Ethernet connectivity available on all models of test equipment, including the intelligent TME Solution™ Leak and Flow Tester, the Solution-C Chamber Tester, and the BT-1000 Automated Package Tester.
With this option, the TME Solution family of leak and flow testers will be Ethernet capable: - Supports 10Base-T Ethernet connection for two way control and data collection over corporate LAN or wide area networks; - Supports TCP and UDP data protocols with connections via Telnet and HTTP (or custom application from TME quoted upon request); - Easy web-based interface for IP configuration.
Your TME Ethernet-connected Leak Tester can be accessed remotely over the Ethernet via any networked PC using a web browser, telnet session or IP-enabled application software.
Wherever your testing facilities are located, with TME Ethernet connectivity, your TME intelligent leak test systems can be actuated and monitored over your LAN in your facility, or from anywhere on the Internet with passwords and authorization.
---