Solution-CBC Non-Destructive Blister Card Tester
Product Announcement from TM Electronics, Inc.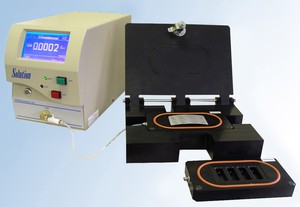 The TME Solution-C Blister Card Test System produces quantitative results in pharmaceutical, nutriceutical or food bottles by combining the sensitivity of pressure decay leak testing with the simplicity of sealed fixtures. This highly sensitive method uses a proprietary chamber design to find leaks in a variety of blister card sizes and shapes. When a blister card is placed in a surrogate chamber, a pressure differential can be created across the non-porous barrier on the package seal. Once stabilized, air movement from the higher pressure to the lower will indicate the presence of a leak path, providing a quantitative measure of package integrity without disrupting the blisters' seals. The blister card is enclosed in the test chamber and the fixture locked. The airspace in the chamber is pressurized, stabilized and tested for pressure decay. No decay, no leaks; if a leak exists in the blister card seal or material, there will be measurable pressure decay.
The chamber test can also be configured as a vacuum test for appropriate applications.
---