TME Solution-S8S Multi-Port Catheter Test System
Product Announcement from TM Electronics, Inc.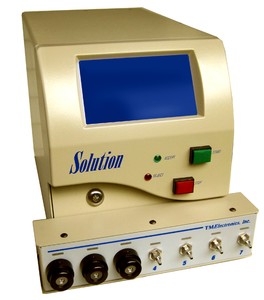 The TME Solution-S8S Multi-Port Catheter Test System is available in models accommodating one to eight lumen catheters. The instrument can be set up to sequentially test for leak, flow, or both in any or all of its channels. In addition, each channel of the instrument can be set to accept or reject on its own individual pressure decay and flow test parameters.
The TME Solution-S8S provides clean, dry, non-destructive tests with repeatable, quantitative results. The instrument stores up to 100 different tests or test parameters, and has a datalog capacity of 5000 test results. A two way RS232 computer connection is standard for data collection and remote parameter control; Ethernet connectivity is available to allow data to be transmitted from the instrument to a LAN. The TME Solution-S8S conforms to ASTM guidelines and provides 21 CFR Part 11 data protection. Calibration is NIST traceable.
The tester is used with a radial sealing fixture, customized to your application, to close the proximal and distal ports of the catheter. The radial sealing fixture is a pneumatically actuated fixture comprised of pneumatic seal clamps that function together to close around the outside diameter of the catheter and seal all leak paths from the catheter distal tip and proximal side ports during pressure decay leak testing and release the appropriate clamps for flow testing.
Click here to Request Information or Quotation
---