TME TS-02 Closed Package Leak Test Fixture
Product Announcement from TM Electronics, Inc.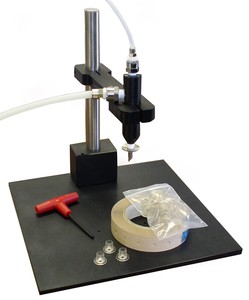 The TS-02 Closed Package Test Fixture and Probe Assembly is ideal for flexible package seal strength and leak integrity testing. By using the patented Package-Port© system of a port and adhesive disk along with the penetrating test probe, a leak-tight path connects the package internal volume directly to the BT-1000 Automated Package Tester measuring instrument. The variable height clamp stand can be used to penetrate packages with its probe down, as shown above, or reverse the clamp to turn the probe up to accommodate most large package sizes. According to the ASTM 1140 test standard, packages should be pierced near their center point. The penetrating probe needle seals its outer diameter to the inside of the Package-Port while the internal diameter of the probe needle communicates with the internal volume. A leak tight path is established with the instrument via the supply and sensing tubes.
---