Product Announcement from TM Electronics, Inc.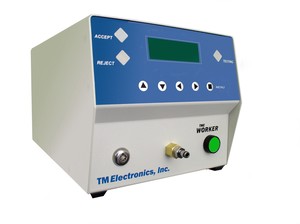 The TME Worker™ is a single port, high resolution test instrument that is available as a Leak Tester, a Leak and Flow Tester, or a Leak and Occlusion Tester.
The TME Worker Leak Tester is available in pressure or vacuum configurations, for pressure decay or vacuum decay leak testing. For instruments with the Leak/Flow configuration, a pressure decay leak test or mass flow test can be performed alone or in combination of Leak/Flow or Flow/Leak. During the Flow Test, a Mass Flow Meter measures the flow of air or gas through the test part, and the test result will be reported as a measured flow rate in cc/min. In the Occlusion Test the back pressure of the part is monitored to determine the extent to which the part is occluded. The Leak/Occlusion configuration can perform a pressure decay leak test or an occlusion test alone or in combination of Leak/Occlusion or Occlusion/Leak.
Affordable, sensitive (resolution of 0.0001 psi), repeatable and reliable, the menu-driven TME Worker is easy to program and use, with the capacity to store 100 individual test programs and a Datalog capacity of 5000 test results. The two-line vacuum fluorescent display is easy to see and LED indicators report pass/fail test results. The instrument with its small footprint (8"W x 13.7"L) and rugged containment is suitable for benchtop, industrial or laboratory use.
The TME Worker has PLC controls for semi-automatic operation and two-way RS-232 communication capability for downloadable program selection and uploadable data. Ethernet connectivity is optional. Other options include a Clamp Driver and Bleed Cycle to accommodate specific testing needs. The TME Worker Leak/Flow/Occlusion Tester is suitable for testing applications from the medical, automotive, appliance and food industries.
You have successfully added from to your part list.
---