Product Announcement from TOC Systems, Inc.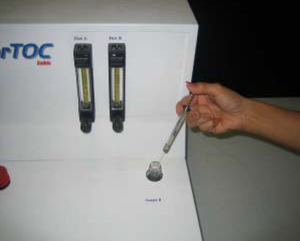 Applications (partial)
• Incinerator Residue
• Groundwater/Soil Contamination
• Agricultural Studies/Planning
• Solids, Slurry, Particulated Liquids
• Cleaning Validation (Swab Method)
• Combustors/Hazardous Waste Emissions

Solids - Slurries - Sludge - Liquids
Series SA 900 provides a platform, which may be configured for a variety of applications, combustion temperatures, catalyst/non-catalyst choices and different Regulatory and Standard Methods. It is an ideal tool to support current development programs, as well as providing capability for any future mandated requirements.
Configurations:
The hardware provides the operator with a high degree of flexibility to improvise the
configuration parameters, such as temperatures, reactor catalyst choices or a noncatalytic
reaction. The following two (2) methods are currently preferred.
• TOC - Direct Mode
This method uses a single, dual-zone heated Reactor. The operator acidifies
the sample, which is initially introduced to the 250oC heat zone, where all
TIC is vaporized to CO2 and measured as TIC. After TIC vaporization, the
sample is automatically placed in the high temperature heat zone, where
the TIC-Free sample is oxidized to CO2 and reported as TOC.
• TOC Differential Mode
This method uses one Reactor, set to a high temperature, to combust all the
carbon in the sample, to be reported as TC (Total Carbon).
Applications:
TOC Systems, Inc. is located in League City, TX. The company offers analytical products in the following applications: Drinking Water, Power Generation, Food & Beverage, Municipal Waste Water, Environmental Testing, Boiler/Cooling Water, Agriculture, Industrial Waste Water, Process Manufacturing, Water Conditioning, River Water Monitoring, Oil in Water and other applications.
TOC Systems offers the most complete Total Organic Carbon (TOC) product line available and is the only manufacturer with all methods of TOC analysis. In addition to TOC, Star manufactures analyzers for BODc, CODc, Alkalinity, Nitrogen/Nitrates, Phosphorus/Phosphates, Infrared Gas Detectors, and H. R. Volatile Organic Compounds.
Pre-Engineered On-Line System Packages and Enclosures - TOC Systems also provides pre-engineered and custom systems, including small shelters with all utilities installed and ready to be delivered to your site.
You have successfully added from to your part list.

Play Solids - Slurries - Sludge - Liquids Analyzer Video
---