Conveyor Radiation Portal Monitor
Product Announcement from TSA Systems, Ltd.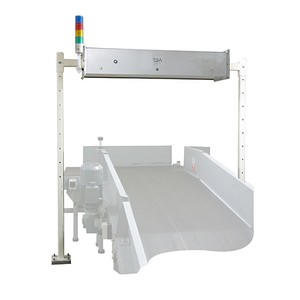 TSA's CVM-267 is a stand-alone conveyor portal monitor which can be positioned on the side or mounted directly above a moving beltway. This extremely reliable system features highly sensitive detection for both gamma and neutron radiation.
All of the essential components are contained in the single pillar: gamma and neutron detectors, SC-770 system controller and SCA-775 amplifier/single channel analyzer, and occupancy detector.
A light tower with flexible positioning is used for distinct audible and visual gamma and neutron alarms with status indicators for fault and ready conditions. An alarm output relay is provided which may be ac coupled to stop or divert the conveyor.
The CVM-267 is equipped with Ethernet communications capability. TSA' RAVEN (Radiation Alarm and Video Event Notification) monitoring system connects through wired or wireless Ethernet.
OPERATION: After the initial site preparation is completed, the system can be installed and operating in less than an hour. When the system is powered up, it acquires an initial background count. The process normally takes twenty seconds. The background count is continually updated until the system is occupied.
When the detector senses occupancy, the system starts comparing the current count with the most recent background data. Alarm comparisons are made every 200ms. If the count exceeds the alarm level, both audible and visual alarms will be triggered. The system monitors itself and indicates low and high background conditions. System status is continuously updated on the SC-770 display. User-selectable settings for sensitivity, energy discrimination, and fault levels may be entered on the keypad of the SC-770 system controller.
---