Hand Held Monitors PRM-470 Series
Product Announcement from TSA Systems, Ltd.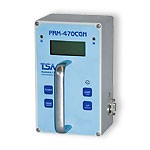 Description:
TSA's PRM-470 hand held series is a popular choice for locating radioactive sources and measuring intensity in the field. It uses low power CMOS electronics to provide extended operation from the rechargeable batteries. The versatile, easy to operate PRM-470 series also features a self-test during power up, automatic background count and user determined alarm settings. Settings may be configured from the front panel, or from a personal computer using RS-232 communications. Count information and unit parameters are presented to the user on an alphanumeric 4 line, 16 character display.
The PRM-470 series utilizes a motion switch to automatically switch from background to search mode when the instrument is moved. After the instrument has been at rest for a preset duration, it will revert to background update. The unit may be programmed by the user to scale the display to CPS, µsv/hr or mR/hr. This conversion is not energy compensated. Therefore, the value displayed is only an approximation of actual dose rate.
Due to popular demand, the PRM-470 series now features an audio and visual search/find mode to assist in locating radioactive sources. As detected counts increase, so does the frequency of the audio signal, helping to pinpoint the location of the radioactive source. LED indicators respond in similar fashion, flashing faster as counts increase. On gamma and neutron instruments, the LED indicators also assist to identify the type of radiation being detected (a red LED for gamma, and blue LED for neutron radiation).
TSA Systems offers the following line of PRM-470 series hand held monitors:
PRM-470CG - Gamma only search/find instrument
PRM-470CN - Neutron only search/find instrument
PRM-470CGN - Gamma & Neutron (simultaneous) search/find instrument
---