Mobile Radiation Detection System
Product Announcement from TSA Systems, Ltd.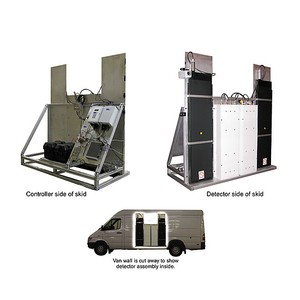 TSA's Mobile Radiation Detection System MDS-134 incorporates unique design features of high sensitivity and reliable operation in variable background environments. The MDS system covers stationary as well as drive-by applications. TSA's expert engineering staff can adapt the MDS to meet special requirements, if necessary.
OPERATION: When the system is powered up, it takes twenty seconds to acquire an initial background. The MDS can be put in occupancy mode two different ways, sensor activated or constant.
When occupancy is activated the system starts comparing the current count to the most recent background data. Alarm comparisons are made every 200ms. If the count exceeds the alarm level, both audible and visual alarms will be triggered. The system monitors itself and indicates low and high background conditions.
RAVEN COMMUNICATIONS SOFTWARE: TSA Systems has developed a software package to complement its outstanding array of radiation detection systems. TSA's RAVEN (Radiation Alarm and Video Event Notification) monitoring system was designed to both capture and view data and video images relating to a radiological detection incident.
Stored sets of data and video can be used in the rapid identification of the method of transportation of radioactive substances. Quick review of the incident can be made by using the on screen controls that allow the user to step through each image and pause whenever necessary. This allows the user to relay any identifying information to response personnel in the field for possible secondary inspection or other interdiction.
Graphs of detection levels along with the ability to view which individual detector is displaying the most activity will allow the user to better understand where in a large container the radioactive source may be located. This will save time for personnel doing secondary inspections.
The RAVEN system data can be relayed to a remote location to allow monitoring of several units. Contact TSA Systems for information on the options for relaying system data.
---