Pedestrian Portal Monitor PM-700
Product Announcement from TSA Systems, Ltd.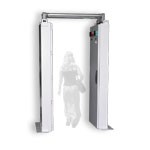 Description:
TSA's PM-700 monitors are stand-alone, pedestrian portal monitors with excellent sensitivity and reliability. The PM-700's large detectors and unique detection algorithm improve its performance to the point that it can achieve ASTM Standard C 1169 Category III sensitivity for SNM.
All of the essential components are contained in the pillars; radiation detectors, controllers, and occupancy detector. The systems operate from an internal battery. The battery is constantly charged from the site's ac line during normal operation. In the event of a power outage, the battery permits continued operation for at least 24 hours.
The PM-700 is adaptable for neutron detection capability. It is equipped with RS-232 and Ethernet communications capability.
The PM-700 systems utilize TSA's model SC-770 controller in the master pillar, and model SCA-775 single channel analyzer in the slave pillar. TSA's AM-270 provides audible and visual alarm indications.
OPERATION: After the initial site preparation is completed, the systems can be installed and operating in less than an hour. When the system is powered up, it acquires an initial background. The process takes twenty seconds. The background is continually updated until the system is occupied.
When the infra-red detector senses occupancy, the system starts comparing the current count to the most recent background data. Alarm comparisons are made every 200ms. If the count exceeds the alarm level, both audible and visual alarms will be triggered. The system monitors itself and indicates low and high background conditions. A closed circuit tamper output is available for connection to the AM-270 or site security system. System status is continuously updated on the SC-770 display.
---