Radiation Portal Monitor PM-702
Product Announcement from TSA Systems, Ltd.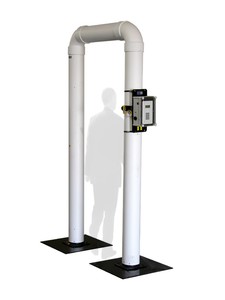 TSA's personnel portal monitor, model PM-702, is a highly reliable system for the radiometric protection of special nuclear material (SNM). It is designed to exceed the criteria for an ASTM Standard C 1169 Category II SNM monitor which will detect 10 grams of 239Pu (HEU) on a walk-through basis.
Suitable for indoor or outdoor installation, the PM-702 consists of three main components; two vertical pillars each containing an organic plastic scintillator detector, and a crossover pillar. An optional grated step through feature provides optimal SNM monitoring.
A numeric keypad alarm with an LCD display attaches to the pillar and provides both audible and visual alarm indicators. RS-232 communications capability is optional. The system operates from an internal battery. Under normal conditions the memory should be adequate to store data for at least 3 months of operation.
The PM-702 personnel portal monitor was designed for monitoring applications that do not require the very high sensitivity of TSA's PM-700 or for situations that require a semi-portable monitor.
While it has adequate sensitivity for security applications, it was primarily designed for use in hospitals, laboratories, and other locations where radioactive SNM materials need to be monitored.
---