Radiation Waste Monitor BM-285
Product Announcement from TSA Systems, Ltd.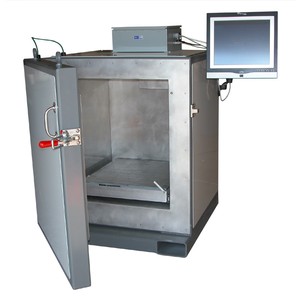 TSA's BM-285 bag monitor and BM-286 barrel monitor are trouble free instruments designed to measure gamma contamination of containerized material. The BM-285 can accommodate containers up to 500 lb., while the BM-286 is designed to hold 55 gallon drums weighing up to 1,000 lb.An aluminum or stainless steel liner protects the detectors from the articles being monitored. The load platform, containing the weight monitoring load cells, is mounted on sliding runners to facilitate loading heavy samples.
Plastic scintillator detectors are mounted on all six sides of the counting chamber to provide uniform measurement throughout the chamber. The monitor's high sensitivity is achieved by using large surface area plastic detectors coupled with microprocessor controlled electronics and sophisticated software algorithms.
---