Train Portal Monitor TM-850
Product Announcement from TSA Systems, Ltd.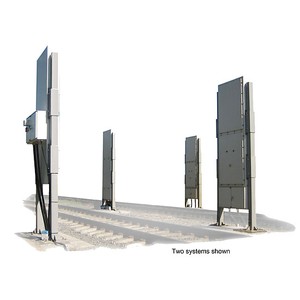 TSA's train monitor TM-850 consists of two self-contained, weather resistant pillars placed on either side of the railroad track to be monitored.
Each pillar contains two plastic scintillator detectors, four neutron detector blocks, occupancy sensors, and an SCA-775 amplifier/controller. The master pillar also has a battery, power supply/battery charger and an SC-770 system controller.
These systems require two conduits, one to provide ac power to the battery charger, and one for the inter-pillar connections. A third conduit may be required to route signals to TSA's AM-270 alarm monitor.
---