Waste Monitor BM-185 small item scanner
Product Announcement from TSA Systems, Ltd.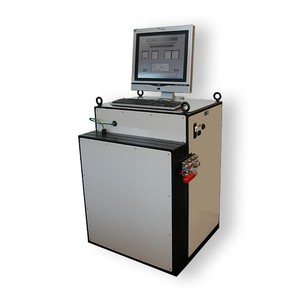 The BM-185 is designed to scan small items for radioactive contamination. The BM-185 provides 4pi geometry and efficiency of greater than 45% for 60Co.
The monitor's high sensitivity and uniform measurement is achieved by using large surface area plastic scintillator detectors on all six sides of the counting chamber. The output from each detector is processed individually, sent to the system controller, and to the panel PC.
User operation is made simple with the touch screen, color monitor, panel PC. Easy to read graphics provide instant reporting of system status and operating mode. Ten different languages are currently available and are selectable from the panel PC. The user can change or modify any translated word or phrase to better convey the meaning.
The aluminum liner provides minimum attenuation. The BM-185's electronics are mounted above the chamber which allows access for repair. The panel PC is mounted on an arm that allows for ease of movement while protecting the PC from dropping or relocation.
---