Product Announcement from TT Semiconductor, Inc.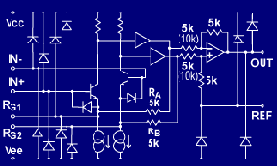 The TT Semiconductor TT1510 and TT1512 are high performance preamplifiers suitable for low noise transducer preamp and bus summing applications.
The products are specifically packaged to withstand harsh environmental conditions and temperatures up to 200C. These devices go through comprehensive testing and screening to insure a high degree of reliability under these extreme requirements.
Gain for both parts is adjustable via one external resistor, making it possible to control gain over a wide range with a single-gang potentiometer. The TT1510 reaches 6dB gain with a 10kW resistor. The TT1512 reaches 0dB gain with a 10kW resistor.
Designed from the ground up in TT Semiconductor 's complementary dielectric isolation process and including laser-trimmed Si-Chrome thin film resistors, the TT Semiconductor TT1510 and TT1512 improve on existing preamps by offering lower noise at low gains, wider bandwidth, higher slew rate, lower distortion, and lower supply current. The parts feature internal ESD overload protection on all critical pins.
For more information go to www.ttsemiconductor.com
You have successfully added from to your part list.
---