Product Announcement from Tanis Incorporated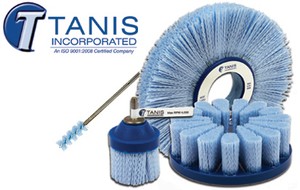 CeramiX(R) abrasive filaments - A superior ceramic abrasive grain creates a superior abrasive brush.
The technology dates back to 1981, when 3M Company (St. Paul, MN) introduced the first commercial application of sol gel abrasive grain. The advantages of this grain stem from its manufacture and are evidenced in the grain's microstructure.
The production of conventional fused abrasive grain (such as aluminum oxide or silicon carbide), is a process in which the raw materials are fused or melted together, cooled and then crushed. This process results in crystal structures that are usually quite large.
In comparison, sol gel abrasive grain is the product of a chemical process in which an alumina precursor is prepared, gelled, dried, crushed into particles and then sintered to form abrasive grains. These ceramic abrasive grains may be embedded in a nylon polymer and the combination extruded into abrasive nylon filaments.
The ceramic abrasive particles produced through sol gel processes have a finer crystalline structure than their conventional counterparts. Individual fused aluminum oxide abrasive grains typically comprise one to three alumina crystals; sol gel abrasive grains consist of many multitudes of alumina crystals.
The benefit of this crystalline structure is that as the outermost crystals in the abrasive grain become worn during use they are expelled in very small fragments, leaving a greater amount of grain in the filament to continue abrading the part surface. The nylon filaments containing this special ceramic abrasive grain deliver improved productivity.
The 3MTM ceramic abrasive grain 321 has a unique two-phase microstructure, a combination of fine crystals and a platelet phase. The platelets serve to reinforce the abrasive grains to withstand greater abrasion forces. The random orientation of the platelets also deflects fractures into multiple directions, creating a jagged irregular surface after the grain fractures. This continuous self-sharpening and jagged grain surface provide superior abrasion for filaments containing 321 ceramic abrasive grains.
The microstructure of 321 ceramic abrasive grain from 3MTM allows for three key traits which contribute to its elevated status: fracture toughness, hardness, and self-sharpening qualities. These features equate to increased productivity for CeramiX® abrasive nylon brush filaments, made with proprietary 3MTM 321 ceramic abrasive grain embedded throughout the filament.
Abrasive nylon brushes made with CeramiX filaments are made exclusively in North America by Tanis, Inc. in Delafield, Wisconsin, and are used as flexible filing tools in deburring and surface conditioning applications. Their flexibility allows these brushes to conform to irregular surface shapes, and the brush designs have been developed for use in power tools, robotic cells and CNC applications to eliminate the need for time-consuming and inconsistent hand deburring operations.
Tanis' abrasive nylon brushes are available in multiple configurations: Tube or burr brushes (also known as twisted-in-wire), strip brushes, and composite formed disc , mini-disc and radial wheels. CeramiX® high-performance filaments cut three to five times faster on ferrous metal surfaces due to the properties of the 321 ceramic abrasive grain, and CeramiX performs well under high stress and heat conditions as well.
CeramiX abrasive nylon filament is available in 80, 120, 180 and 220 grit sizes, in a variety of filament diameters including heavy-duty rectangular shaped. Tanis regularly designs and manufactures custom brushes in CeramiX and other filaments to suit customers' specific applications.
You have successfully added from to your part list.
---