Bio Nanotech 2012
Service Detail from TechConnect World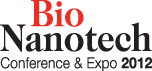 Our Mission: Uniting innovators to bring nano-biotechnology from laboratory to marketplace. Bio Nanotech 2012 brings together over 5,000 technology and business leaders and experts from academia, government, startups and Fortune 1,000 companies.
Bio Sensors, Diagnostics, Imaging & Instrumentation
Bio Nano Materials
Materials for Drug & Gene Delivery
Nanoparticles in Imaging Technologies
Cancer Nanotechnology
Neurology Nanotech
Nano Medical Sciences
Micro & Nano Fluidics
How to Participate?
☞ Join our mailing list, and we'll keep you posted.
---