TS250 Series Digital Dispensers/Controllers
Product Announcement from Techcon Systems, Inc.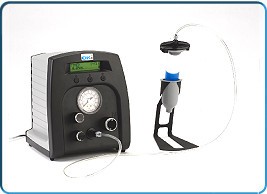 The TS250/255 Series dispenses low, medium and high-viscosity fluids accurately and consistently. The TS250/255 Series is immediately usable anywhere in the world with its accompanying tools, accessories and universal power supply.
The modern-style enclosure has a small footprint and conserves workspace through exterior design that allows multiple units to be stacked and fastened on top of each other. A highly responsive air pressure and vacuum management system, coupled with a digital timing circuit, provides consistent and repeatable fluid dispensing and material waste control. User friendly firmware provides quick and easy setup function.
Key Features
Universal power supply with snap-on plug for worldwide use
User Friendly firmware provides easy setup task
Digital timing from 0.020-60.000 seconds
+/- 0.001% Timing repeat tolerances
Adjustable vacuum-driven "suck back" to control material "tailing" and waste
Stable to conserve work space when multiple TS250/255 units are used together
Designed For User Convenience:
User Friendly firmware
Footprint is 30% smaller than the closest, similar shaped, competitor product
Weight is 84% lighter than the closest, similar shaped, competitor product
Large, clearly marked air pressure and vacuum control knobs
Precise, finely scaled air pressure gauges
High visibility, 16 x 2 LCD display panel with back lighting
Accessories included: Universal power adapter, Foot Switch, Syringe Stand, 10-cc Receiver Head, air hose with fittings, hose holder and sample needles
System:
TS250Digital Dispenser/Controller 0-100 psi (0-6.9 bars)
TS255Digital Dispenser 0-15 psi (0-1.03 bars)
---