New Non-Contact Jetting technology
Product Announcement from Techcon Systems, Inc.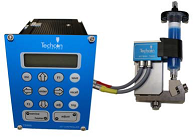 Every component of the valve is designed to the highest tolerances and manufactured to the strictest degree of precision, ensuring worldclass accuracy and repeatability in drop-to-drop dispensing volume. Special features of the valve include fully adjustable parameter settings, allowing the operator to change the jetting properties for different fluid types and optimize the process for repeatable dispensing.

Jet Tech's compact size and modular design aids the integration into robotic systems. A variety of nozzle shape and sizes, along with different tappet configurations, provide a wide spectrum of output jet deposits. Additionally, the valve features field replaceable spare parts with quick and easy replacement procedures. These features translate into low total cost of ownership.
The TS9000 Series Jet Tech can be used in wide range of applications including jetting silver epoxies for die bonding processes, silicone phosphor in the LED assembly process, under-fill in micro-electronic package applications on PCBAs, and micro dots of UV adhesive in medical device applications. The Jet Tech system is shipped standard with a valve, controller, cables and three nozzle tools.
The TS9000 Series Valve will be available for order in Asia and Europe on December 3,2012. For more information please contact the Techcon Systems team at (714) 230-2398 or visit www.techconsystems.com.
---