Body Pressure Measurement System
Product Announcement from Tekscan, Inc.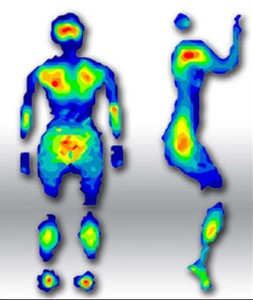 Based on Tekscan's innovative pressure sensor technology, the Body Pressure Measurement System (BPMS) provides 10 times more relevant information than its nearest competitor. Widely used in industry, the system features one sensor per square centimeter, enabling precise measurement of location and magnitude of peak pressures. The sensor's thinness (0.004") does not alter support surface characteristics. This dense spatial resolution enables the user to identify and measure the effect of stitching, seams, bolsters, wire stays, foam stiffness, and the structural support frame on the pressure distribution and comfort of the seated subject. With a high dynamic sampling ability, BPMS can even capture changes in pressure distribution during driving activities. The sensor is so thin that it does not interfere with the occupant's "feel" of the support surface nor does it disrupt the true pressure pattern.
The BPMS allows designers and manufacturers to optimize material selection, conduct analyses, optimize ergonomic position and record changes in position during different activities. The BPMS also provides highly accurate dimensional information regarding the physical location of the saquilis, ischial and other anatomic regions.
The BPMS is simple to set-up, non-intrusive measurement system that can be adopted to an array of support sizes. The system's modular sensor concept allows for systems to be built consisting of two sensor pads up to a maximum of eight. The system can also handle simple static and quasi-static situations.
You have successfully added from to your part list.
---