Economical Load & Force System (ELF)
Product Announcement from Tekscan, Inc.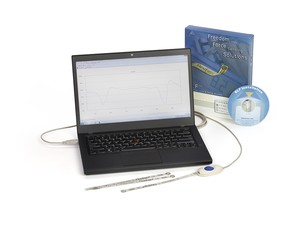 The ELF System, a complete load measuring kit, includes software, electronics, and ultra-thin, reusable FlexiForce sensors in 3 ranges: 0-25lb, 0-150lb, and 0-1000lb, where the sensitivity is adjustable to achieve a range of even 0-1lb.
ELF Features include: 8-bit system for 256 levels of resolution; ASCII output, which can be imported into Excel; Real-time display & data capture; Simple calibration that can be saved for later use; Adjustable gain/sensitivity for tighter force ranges and greater resolution; Hi-Speed option to 5.7kHz, or standard speed of up to 200Hz; "Movie" recording, playback, and saving; Units of measure are: grams, kilograms, pounds, Newtons and percentage; Graph displays are: strip chart, digital number and bar graph; Choose your own background and chart colors.
The Multi-Handle ELF software option allows you to capture, view, and record information from up to 16 sensors simultaneously. The image displayed shows the Multi-Handle ELF Software with three data acquisition handles and three sensors.
Applications include: Occupancy Detection, Impact & Crash Tests, Prosthetic & Footwear Design, Medical Device Testing & Design, Automotive R&D, Ergonomic Studies & Grip Force, Industrial Machinery, Garment Testing, Fitness & Martial Arts Equipment, and more.
ELF is your COMPLETE solution to load measurement. GET YOURS TODAY!
You have successfully added from to your part list.
---