I-Scan and Video Synch
Product Announcement from Tekscan, Inc.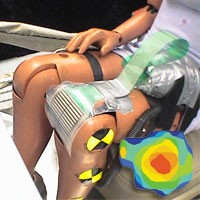 High Speed I-Scan® sensing arrays offer very high sampling speeds. For example, data from a 44 point pressure sensor, can be captured at speeds up to 20 KHz. The sensor's 5 microsecond rise time is more than adequate for these applications.
In one such application, a major automotive testing laboratory used the I-Scan® to measure pressure in lower extremity "bolster" crash testing. A sensor was placed on the knee of a crash dummy, the system was mounted in the vehicle on the sled and the forces on the knee when it hit the dashboard during a crash were measured.
Another study done at a major European university involved soccer players and assessing the protective properties of various shin guard materials and designs. High Speed was used in a simulation test designed to better understand the pressures involved during leg breakage and analyze the effectiveness of shin-pad supports. The results allowed the investigators to compare different designs and materials.
You have successfully added from to your part list.
---