Measurement & Analysis of Sealing and Packaging
Product Announcement from Tekscan, Inc.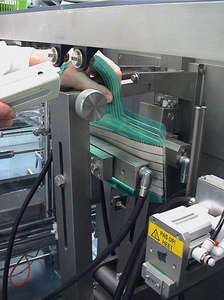 The I-Scan® system from Tekscan, Inc. provides the best diagnostic tool to evaluate, view and measure static and dynamic pressures. The I-Scan is a versatile system that uses our patented, thin-film pressure sensors. This system has been used in the packaging industry; including pharmaceuticals, to help troubleshoot such issues as poor quality seals resulting in product waste. Tekscan's unique systems approach makes the I-Scan system an efficient tool to improve packaging machines product yields.
In this application, a common Tekscan sensor, such as the 5570, which contains 44 sensing points and covers the length of many sealing bars is often used. The sensor is inserted between the sealing bars, the bars are closed, and the I-Scan software displays the dynamic 2D or 3D pressure profile while recording your data. The lower pressure heights correspond to lower or weaker sealing forces. Mechanical adjustments can then be made until the pressures become more even showing the sealing bars are in alignment to provide a more uniform contact seal.
The I-Scan system is a very useful set up tool. By adjusting the sealing forces before the start of a production run, large amounts of product waste can be avoided. I-Scan can also be used to inspect worn parts, set up new machines, and improve overall quality control in the production area. Sensors are available in different shapes, are reusable, and provide accurate pressure readings. With the help of Tekscan's highly qualified Sales and Engineering Support Team, each system may be configured to meet your specific needs.
You have successfully added from to your part list.
---