Product Announcement from Tekscan, Inc.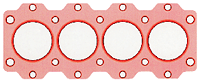 Prescale™ film is used to measure contact pressures. The film structure consists of micro-encapsulated color forming and developing material. When pressure is applied to the Prescale film, microscopic bubbles within the sheet burst, and a red color impression is formed in varying intensity according to the level of pressure(s) present. The film is ideal for static applications to show pressures from as low as 7.25 PSI to as high as 43,500 PSI. For dynamic applications where pressures need to be recorded over time, Tekscan can recommend an appropriate Tekscan Pressure Mapping System, complete with data acquisition electronics, Windows-based software, and appropriately-sized piezoresistive sensors. With Tekscan's I-Scan® system, for example, there are over 75 standard sensor shapes in varying sizes from which to choose.
Prescale Pressure Indicating Film is an intuitive, easy-to-use product, which provides an immediate impression of pressure intensity and variance over a surface, giving the user a quick picture of high and low-pressure areas. The film is available in rolls and can be quickly cut to the appropriate shape or size. Tekscan is also offering the film by the foot, or in sample packs containing seven (7) 12" X 10.6" sheets: one sheet in each of the 7 offered pressure ranges.
You have successfully added from to your part list.
---