Product Announcement from Teledyne DALSA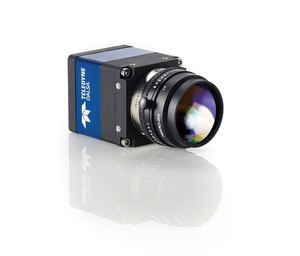 Teledyne DALSA Showcases Defense and Security Applications at CANSEC
Teledyne DALSA, a Teledyne Technologies company and a global leader in digital image sensing technology, will highlight its multispectral, extreme environment, and custom IR, CCD and CMOS sensors and cameras at CANSEC 2013 in booth 513. The show will be held May 29-30, 2013 at the Ernst & Young Centre (formerly the CE Centre) in Ottawa, Canada.
Teledyne DALSA offers field-proven Visible, UV, and X-ray imaging solutions and a unique capability for manufacturing uncooled long-wavelength infrared detectors based on a variety of technologies. Imaging capabilities include:
Visible Wavelength Imagers - Extensive camera and detector technology platforms, including standard, semi-custom and full custom CMOS and CCD detectors, combined with the latest camera concepts to deliver low SWAP (Size Weight and Power) solutions for a variety of applications. Teledyne DALSA's imaging technology offers unmatched combinations of speed, responsivity, and dynamic range with GigE Vision® and Camera Link® interface standards.
Ultraviolet Detectors - Proprietary UV-imaging technology can sense wavelength ranges down to 193 nm. Based on the back-sideilluminated detector concept, this technology can be implemented in both high speed CCD and CMOS technologies.
Near-Infrared Detectors - With a range of NIR-sensitive detectors, our proprietary device and process engineering allows for high sensitivity in the 800-1000nm range, while still maintaining important features such as over exposure control.
Uncooled Infrared Cameras - In-house capabilities willdeliver detector and image module solutions for LWIR applications.The IR modules are developed and qualified to customer specifications and can be based on Teledyne DALSA's custom detectors and field- proven camera platforms, leveraging extensive experience in smart camera technology.
Export Control and Controlled Goods
Teledyne DALSA sources its technology from non-ITAR restricted sources and therefore can supply "ITAR free" solutions subject to Canadian export controls. Teledyne DALSA design controls are compliant to the relevant MIL-standards.
You have successfully added from to your part list.
---