Product Announcement from Teledyne DALSA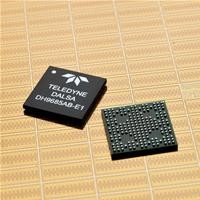 Teledyne DALSA Semiconductor Announces Electrostatic Actuator Integrated Circuit for High Density MEMS/MOEMS Systems
WATERLOO, Ontario - February 28, 2012 - Teledyne DALSA Semiconductor, a Teledyne Technologies company, announced today the availability of its DH9685AB Electrostatic Actuator High Voltage Integrated Circuit. Using proprietary High Voltage CMOS/DMOS technology, the DH9685AB is designed for next-generation, high density, small footprint, low power system requirements using MEMS or MOEMS activation with electrostatic forces. This device showcases Teledyne DALSA Semiconductor's suite of product development and manufacturing capabilities for MEMS/CCD/HV-CMOS solutions.
"Sophisticated High Voltage design permits us to offer unbelievably low power consumption where a large number of channels is critical," said Remi Meingan, Senior Product Manager at Teledyne DALSA. "With our advanced BGA Package, the DH9685AB achieves impressive integration with the smallest footprint area per channel."
The DH9685AB extends Teledyne DALSA's industry leading MEMS and MOEMS capability and provides a cost-effective solution for high density systems. It has 96 High Precision, High Voltage Channels up to 240V in a 17x17 mm BGA Package, and is ROHS compliant. It operates through a versatile digital 3-wire interface.
Key Features
240V, 96-Channel, Precision High Voltage 16-Bit DAC with Sample and Hold
Very low power consumption below 500 mW
24 selectable quads of 4 High Voltage channels programmable with 4 Low Voltage 16-bit DACs
Adjustable HV Output range with reference input
Standard SPI®/3-wire serial interface for DAC programming up to 50MHz
Highest integration at 3.0 mm2/ch. in BGA package
Single polarity Low Voltage power supplies
Stable HV output voltage over time
Internal Diode for Temperature Monitoring
3 times more channels than the Analog Devices AD5535 while maintaining similar size
4 times less power consumption per channel than the Analog Devices AD5535
Equal or better noise performance than the Analog Devices AD5535
Click here for additional product details and information on availability.
You have successfully added from to your part list.
---