SMARTSTEM Sensor
Product Announcement from Teledyne Instruments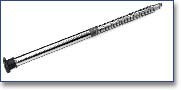 Teledyne Instruments SMARTSTEM sensor measures stem thrust and torque using bonded resistance strain gages directly mounted on the valve stem. Their patented gaging technique offers the most accurate measurement of forces experienced by the valve stem (as demonstrated by an industry sponsored validation program). Each unit undergoes a laboratory calibration and is traceable to the National Institute of Standards and Technology. SMARTSTEM transducers are direct replacements of the valve stem supplied by the manufacturer.
Use Teledyne Instruments QUIKLOOK data acquisition system to collect and analyze SMARTSTEM stroke data or their SENTRY for unattended recording of all activity for later analysis.
The SMARTSTEM is available under the quality assurance requirements of 10CFR50 Appendix B and NQA-1. Component qualification meets the requirements of the ASME Boiler and Pressure Vessel Code Section III, NB. Design verification is provided as an option.
Applications:
Performance Trending -- Safety Related Valve Testing -- Maintenance and Diagnostic Testing -- MOV Valves -- AOV Valves
---