SERIES SRF300/SRF303 ULTRAMINIATURE (DPDT)
Product Announcement from Teledyne Relays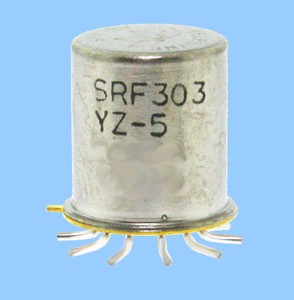 Teledyne Relays has introduced the SRF300/SRF303 series. These ultraminiature broadband TO-5 relays, are designed to be a practical surface-mount solution that simplifies circuit-board manufacturing.
The SRF300 and SRF303 are formed lead versions of Teledyne's RF300 and RF303 relays. They provide easy solder inspection and can be easily removed with hand tools. Because the relays are hermetically sealed, they can be submerged in cleaning solvents during manufacturing processes.
While the SRF300 and SRF303 use less board space than traditional relays, they are characterized by microwave cavities that allow higher frequencies with improved RF parameters for reduced insertion loss, increased isolation and lower return loss.
They cover frequencies from DC to 6 GHz. The relays also are characterized by low energy consumption and performance over a wide temperature range of –65°C to +125°C.
The SRF300 and SRF303 are suited for many high-speed digital switching applications, including test and measurement equipment and high-volume semiconductor manufacturing test environments.
The SRF300 employs a circular form factor; the SRF303 is the sensitive version (low coil current).
The SRF300 measures .370 inches (9.4 mm) in diameter and .275 inches (6.99mm) in height (excluding leads). It weighs 0.09 oz. (2.55g). The SRF303 measures .385 (9.78mm) in height and weighs 0.16 oz. (4.5g).
For more information, call (800) 284-7007, visit www.teledynerelays.com or send e-mail to relays@teledyne.com.
For the latest news releases, visit http://www.teledynerelays.com/newsrelease.asp. For the latest data sheets, visit http://www.teledynerelays.com/newproducts.asp.
---