Series SGRF Broadband Surface-Mount Relays
Product Announcement from Teledyne Relays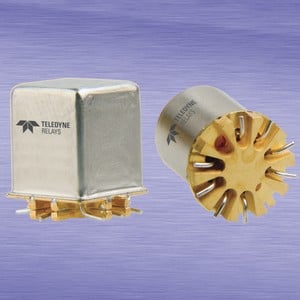 Teledyne Relays has introduced two families of ultraminiature broadband TO-5 relays, featuring a practical surface-mount solution that simplifies circuit-board manufacturing.
The ultraminiature RF relays, the SGRF100 and SGRF300, will be showcased at the IEEE Microwave Theory and Techniques Society (MTT-S) International Microwave Symposium 2007 in Honolulu, June 3–8, at Booth #523.
The SGRF100 and SGRF300 are formed lead versions of Teledyne's GRF100 and GRF300 relays and feature a unique ground shield. They provide easy solder inspection and can be easily removed with hand tools, unlike similar RF devices that simply offer formed leads. Because the relays are hermetically sealed, they can be submerged in cleaning solvents during manufacturing processes.
While the SGRF100 and SGRF300 use less board space than traditional relays, they are characterized by microwave cavities that allow higher frequencies with improved RF parameters for reduced insertion loss, increased isolation and lower return loss.
Like previous broadband magnetic-latching TO-5 relays from Teledyne Relays, the dual-pole, dual-throw (DPDT) SGRF100 and SGRF300 deliver a high number of switching cycles as well as excellent RF parameters and repeatability.
They cover frequencies from DC to 4 GHz. The relays also are characterized by low energy consumption and performance over a wide temperature range of –65°C to +125°C.
The SGRF100 and SGRF300 are suited for many high-speed digital switching applications, including test and measurement equipment and high-volume semiconductor manufacturing test environments.
The SGRF100 employs a rectangular form factor and, as a Teledyne Centigrid® relay, connectors spaced 0.1 inches (2.54mm) apart. The SGRF300 employs a round form factor. Sensitive versions of each relay — the SGRF103 and SGRF303 — are also available.
The SGRF100 is priced at $30.50 each and the SGRF103 at $31.81 in quantities of 500 units. Lead time for delivery is 12 to 14 weeks.
The SGRF300 is priced at $33.41 each and the SGRF303 at $33.80 in quantities of 500 units. Lead time for delivery is 12 to 14 weeks.
For more information, call (800) 284-7007, visit www.teledynerelays.com or send e-mail to relays@teledyne.com.
Teledyne Relays, a Unit of Teledyne Electronics and Communications, has been the world's innovative leader in manufacturing ultraminiature, hermetically sealed, electromechanical and solid-state switching products for more than 40 years. The company's comprehensive product line meets a wide range of requirements for industrial, commercial, RF & microwave, communications, test & measurement, medical, military and aerospace uses.
---