Teledyne Relays Announces New DHR Relay Series
Product Announcement from Teledyne Relays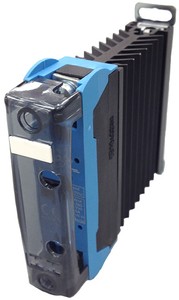 Teledyne Relays has introduced the DHR series to their industrial solid-state relays product line. The DHR series is suitable for applications where spacing is limited, and high cycle rate is needed. The features of the DHR Series include: new high efficiency back-to-back thyristors for long lifetime expectancy, zero-cross models designed for resistive loads, input protection and control LED standard, IP20 protective plastic covers. The DHR relays are designed to conform with EN60947-4-3 (IEC947-4-3) and EN60950/VDE0805 (Reinforced Insulation).
THE DHR solid state relays are offered in 12A, 23A and 32A models. The DHR relays measures 0.88 x 1.65 x 3.58 inches (22.4 x 42 x 91 mm) and weighs 8.82 oz. (250g)
For more information, call (800) 284-7007, visit www.teledynerelays.com or send e-mail to relays@teledynerelays.com.
For the latest news releases, visit http://www.teledynerelays.com/newsrelease.asp. For the latest data sheets, visit http://www.teledynerelays.com/newproducts.asp.
Teledyne Relays, a Unit of Teledyne Technologies Inc., has been the world's innovative leader in manufacturing ultraminiature, hermetically sealed, electromechanical and solid-state switching products for nearly 50 years. The company's comprehensive product line meets a wide range of requirements for industrial, commercial, military and aerospace uses.
---