Teledyne Relays Announces New RF332 Relay Series
Product Announcement from Teledyne Relays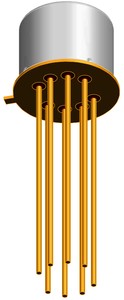 Hawthorne, CA, October 2011: After the successful release of the RF312 series and field application feedback from system designers all over the world, the RF332 has been designed to exhibit high repeatability and is capable of transmitting signal integrity up to 12 Gbps data rates as well as RF performance over a bandwidth from DC-8GHz. The sensitive RF332 relay has a high resistance coil, thus requiring extremely low operating power.
The RF332 utilizes unique construction features including all resistive welding techniques and specific manufacturing processes that feature excellent resistance to environmental extremes such as shock and vibration that contribute to its overall reliability. The uni-frame motor design exhibits highly magnetic efficiency as well as mechanical rigidity.
Teledyne Relays uses advanced cleaning techniques and gold-plated precious metal alloy contacts to ensure reliable switching and controlled RF insertion loss repeatability. All RF332 relays are hermetically sealed to maintain the inert contact switching atmosphere. The RF332 is designed for use in load-boards, attenuators, RF circuits and signal integrity applications. Its features include high resistance to electrostatic discharge (ESD); various ground pin configurations to improve case grounding and high isolation between control and signal paths.
In addition to the thru-hole mount (RF332 Series), the RF332 is available with J-leads (SRF332 Series), surface-mount stub leads with ground shield (GRF332 Series) and surface-mount J-leads with ground shield (SGRF332 Series). The surface mount ground shield used in the stub lead provides improved high data rate and high frequency performance, as well as improved repeatability. Various ground pin configurations are available Upon request.
The RF332 Series measures .370 inches (9.4 mm) diameter and .400 inches (10.16 mm) in height (excluding leads). It weighs .09 ounces (2.55g).
For more information, call (800) 284-7007, visit www.teledynerelays.com or send e-mail to relays@teledynerelays.com.
For the latest news releases, visit http://www.teledynerelays.com/newsrelease.asp. For the latest data sheets, visit http://www.teledynerelays.com/newproducts.asp.
Teledyne Relays, a Unit of Teledyne Technologies Inc., has been the world's innovative leader in manufacturing ultraminiature, hermetically sealed, electromechanical and solid-state switching products for nearly 50 years. The company's comprehensive product line meets a wide range of requirements for industrial, commercial, military and aerospace uses.
---