Ultraminiature RF300 and RF303 Relays
Product Announcement from Teledyne Relays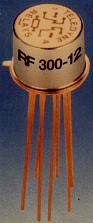 The ultraminiature RF300 and RF303 relays are designed to provide improved RF signal switching repeatability over the frequency range. These relays are engineered for use in RF attenuator, RF switch matrices, ATE and other applications that require dependable high frequency signal fidelity and performance.
Highly suitable for use in all high performance applications in which high speed signals must be transferred. The RF303 has twice the coil resistance of its companion relay, the RF300, thus requires half the power to operate. The RF300 has a profile 0.1" shorter than the RF303.

Both feature broader bandwidth, metal enclosure for EMI shielding, ground pin option to aid in case grounding, control and signal paths and are highly resistant to ESD.

Read More about the SRF300/303
---