BioSafe Cleanrooms
Product Announcement from Terra Universal, Inc.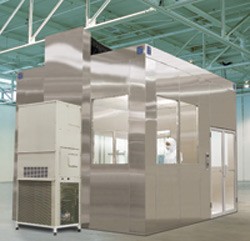 Terra's all-steel BioSafe Cleanrooms provide smooth surfaces, inside and out. They stand up to standard disinfectants and sterilization procedures and can be specified with anti-microbial surface coatings.
The BioSafe Cleanroom creates a rigid, self-supporting structure without a separate frame or external bracing—a key advantage over competitor designs that require special permitting and contractor installation.
The modular design of these rooms makes them easy to assemble, disassemble, and reconfigure as needs change. The double-wall panels create a convenient installation zone for electrical conduit, gas and vacuum service lines, enhancing system cleanliness and appearance. In controlled temperature applications, this void can be insulated to optimize thermal stability and reduce energy costs.
The ceiling grid creates standard 2' x 4' bays for installation of Terra's standard HEPA or ULPA filter/fan units and lights, or optional UV sterilization and fluorescence detection modules. These rooms accommodate the full range of cleanroom configuration options, including air conditioning, dehumidification modules, and ventilation equipment.
Smooth interior surfaces with rounded corners for easy sterilization
Raised, sloped flooring drains to disinfectant reclamation reservoir
HVAC system maintains constant temperature between 60°F and 140°F
Ceiling HEPA filter/fan units meet Class 100 cleanliness conditions
Adjustable high-volume air handlers create negative pressure (-0.05" WG) to protect outside environment
Polystyrene insulation enhances A/C efficiency and temperature stability Standard fluorescent, 254nm
UV germicidal, and 365nm fluorescence detection lighting
Wall-mount utilities: 120/240VAC power, water and gas
You have successfully added from to your part list.
---