Cleanroom Pass-Through Chambers
Product Announcement from Terra Universal, Inc.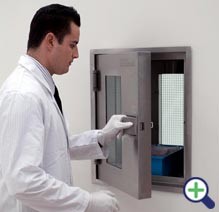 Contamination-free transfer of materials in and out of the cleanroom
Eliminates unnecessary personnel entry
Full range of sizes meets any application
Stainless steel doors extend service life of plastic and laminate chamber—a must in a production environment!
Foolproof interlock mechanism prevents cross-contamination, is reliable and maintenance-free
Material options accommodate many application requirements, from chemical resistance to static control to fire safety
Accessories include LockLatch™, safety sprinkler, air shower, and Class 10 HEPA filter/blower module
Easy to install
Shutting the Door on Contamination
These Pass-Through Chambers cut down significantly on traffic and contamination by providing a better, safer way to transfer equipment and paperwork.
Terra's most economical models are constructed of a fiber core with a white nonconductive laminate fused and sealed to all exposed sides. 304 Stainless steel models ensure clean operation. For especially stringent particle requirements, select an UltraClean™ electropolished 304 stainless steel pass-through.
Polypropylene and PVC models are suitable for chemical pass-through applications, and Static-Dissipative PVC models combine excellent chemical resistance with a surface resistivity of about 107 ohms/square for enhanced static and particle control. Each model features viewing windows of a compatible material.
Doors on either side can be outfitted with a mechanical interlock that keeps personnel from passing particles through the chamber. This device allows only one door at a time to open, and thus the amount of air that can enter the cleanroom is restricted to a very small volume. The no-maintenance interlock has no power, gas, or other facility requirement, so it continues to operate when other systems shut down.
HEPA Filtered Air Shower Clears the Air!
Terra offers a HEPA filtered air shower for enhanced particle control.
This option incorporates a brushless motor and 125 CFM variable-speed impeller to draw air from the "clean" side of the pass-through into a HEPA filter (rated 99.97% efficient with 0.3µm-diameter particles).
A magnetic sensor switch, installed on the "dirty" side door, activates the unit after the door has been opened and then closed. The shower washes the chamber with HEPA-filtered air to remove any contaminants that might have entered the chamber (the operation period is adjustable from 15 to 180 seconds). During operation, a red status light in the "cleanroom" side of the shower glows to warn operators not to open a door. When the shower shuts off, a green status light indicates that the door may be opened.
Exhaust air flows out of vents on the "dirty" side of the pass-through chamber (a microporous filter eliminates the chance of contamination in the event of a negative pressure). The cleanroom intake ensures a long filter life, and filter change-outs can be performed in a matter of seconds.
Installation
Pass-Through Chambers can be installed in a number of ways, depending on the wall or door that will support them. The ordering chart indicates the cut-out size necessary to support each model size (simply add .5" to the chamber width and height). Terra offers mounting brackets and hardware to ensure secure mounting. In most cases, a bracket kit provides ample support. Models are available for either wall mounting (at a convenient standing height) or floor mounting (to allow passage of carts and other equipment along the floor). Select support brackets for 36"D wall-mount models. Note: Brackets are mounted to allow chambers to protrude 2" on the cleanroom side (specify other desired position).
---