Horizontal Laminar Flow Workstations
Product Announcement from Terra Universal, Inc.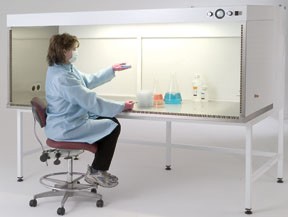 Stainless steel interior (side panels and work surface) ensure optimal cleanliness and chemical resistance for sensitive work in pharmaceuticals, biotechnology, and electronics
Multi-speed filter/blower modules direct a continuous wash of HEPA- or ULPA-filtered air forward across the work area
Take-up ducts along front and side edges minimize turbulence and backwash in the work area
Face velocity is adjustable from less than 90 FPM to higher than 130 FPM
Built-in recessed illuminator provides diffused lighting without interfering with laminar flow
Electropolishing available to remove embedded subsurface particles in stainless steel surfaces
System options include undercounter storage cabinet and vacuum, gas and DI water petcocks
Terra's Horizontal Laminar Flow Station provides an economical work environment that exceeds the most stringent contamination requirements in the pharmaceuticals, biotech, electronics and semiconductor industries.
Powerful filter/blower filter/fan modules provide a back-to-front laminar flow of filtered air across the work surface. The adjustable multi-speed, direct-drive blower lets you adjust air speed to meet your requirements. It also provides an industry-best low noise level of 50dBA.
Select the filters to meet your requirement: HEPA filters are rated 99.99% efficient at removing particles 0.3 microns or larger, and ULPA filters are rated 99.999% efficient @ 0.12 micron particles. The low-profile design of these filter/fan units takes up minimal floor space while leaving plenty of working space (four widths are available) with 28" of vertical clearance above the work surface. All models include a powder-coated steel stand with adjustable leveling feet that raises the work surface to 31" above the floor.
Return Air Ducts Maintain Laminar Flow and Keep Particles Out
For enhanced air-stream control, this station also features return ducts along the front and side edges of the work area. These ducts enhance system efficiency by reducing backwash, the most common source of turbulence in a laminar flow system.
On less sophisticated systems, an object placed near the front edge of a horizontal air-stream interrupts the laminar flow and provides an opportunity for unfiltered air to wash back into the work area, bringing contaminants with it. On Terra's system with return air ducts, inrushing air is drawn down through the ducts to the filter/blower before it can enter the work area. The flow of filtered air thus remains uniform across the work surface, and contaminants are drawn through the ducts and into the filter before they can contaminate work in progress.
Clean, Durable Construction
All materials used in this work station are selected for durability and contamination control. Interior surfaces, including the side panels and work surface, are 304 stainless steel; on an optional basis, these components can be electropolished to provide an ultra-clean finish free of subsurface contaminants. The exterior features a chip-resistant, powder-coated finish. The display panel, including the ON/OFF switch, Minihelic® backpressure gauge, and blower speed control, is mounted above the work area. For operational convenience, a duplex 115VAC/60Hz power outlet is included on a standard basis.
The Horizontal Laminar Flow Station also includes a recessed fluorescent lighting assembly that provides shadow-free illumination of the entire work area without disturbing the air flow.
Select HEPA or ULPA filter modules.
Note: This work station is designed for particle-sensitive applications but does not protect operators against hazardous fumes, vapors or aerosols. See Terra's exhaust purification systems for operations involving hazardous fumes.
---