SmartDesiccator
Product Announcement from Terra Universal, Inc.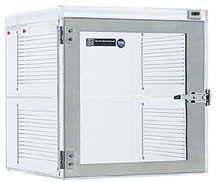 First-of-its-kind gas control system cuts nitrogen expenses by up to 78%
Automates clean, dry benchtop storage to eliminate moisture-related degradation and optimize yields
Ideal for semiconductor components, biological and pharmaceutical samples, and other sensitive materials
Fully integrated turnkey system takes 30 seconds to install!
Terra Universal's SmartDesiccator™ maximizes yields of sensitive materials by automatically maintaining a user-determined humidity set point.
Its quick-response feedback system continuously monitors the cabinet's relative humidity level and activates a purge of dry nitrogen only when it is needed. The system thus economizes on gas consumption and minimizes overpressures that can stress cabinet seals. Comparison testing reveals that the SmartDesiccator™ maintains a low relative humidity level using only 22% of the nitrogen required by a flowmeter-based system of the identical size (see sidebar).
The miniaturized LED display and sensor module eliminate the need for external control boxes. This design also simplifies installation—operation requires only one gas and one low voltage power connection.
304 Stainless steel doors (optional on plastic chambers) restrict the door from flexing or bending, thereby preventing the cracks and fatigue that occur in all-plastic cabinets. The rigidity of the doors also ensures a tight seal between door and frame, minimizing contamination influx and gas leakage. A specially designed lift latch eliminates hinge and door damage caused by the strain of twisting and turning conventional latch systems. The SmartDesiccator™ also incorporates a one-piece, non-adhesive, non-outgassing gasket specially formulated to retain sealing integrity in extreme low humidity. Because it won't sag or migrate, it extends the service life of the cabinet.
Prices include the humidity control module and sensor. To ensure safe pressure release, order the Automatic RB® Valve. Systems are available in 304 stainless steel, acrylic or transparent static-dissipative PVC, which helps control static charges and the particles they attract.
You have successfully added from to your part list.
---