Upright Stainless Steel Desiccators (Series 400)
Product Announcement from Terra Universal, Inc.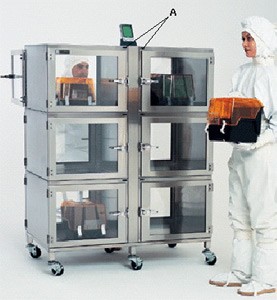 The ideal enclosure for your most moisture-sensitive applications
NitroPlex™-ready chamber design features all-304 stainless steel construction with static-dissipative PVC viewing windows
Optional NitroPlex™ humidity control system enhances desiccator efficiency and saves up to 78% of nitrogen costs
Available in pass-through designs for convenient dual-side access
UltraClean™ electropolished surfaces meet the most stringent particle requirements
The Series 400 Stainless Steel Desiccator provides the optimal clean, low-humidity environment for sensitive parts.
Available in many chamber configurations, it includes front and rear static-dissipative PVC viewing windows for full visibility of stored contents. Static-dissipative PVC helps control static charges and the particles they attract. Select pass-through models for convenient dual-side access.
All models feature a plenum chamber that ensures uniform distribution of nitrogen purge gas. Stainless steel reinforced door frames extend the service life of doors and include Terra's "e"-profile, one-piece gaskets. These gaskets are applied without adhesives and will not outgas or migrate over time. Locking LiftLatches™ further extend cabinet service life by operating without lateral torque that strains door hinges.
NitroPlex™ Control System for Optimal Parts Protection
Terra fabricates these desiccators for use with the NitroPlex™ humidity control system, the most advanced nitrogen purge controller available. Equipped with the NitroPlex™, these systems automatically regulate a nitrogen purge in order to maintain any relative humidity set point you require—down to 0% RH.
You can even establish a separate humidity set point in each desiccator chamber. The NitroPlex™ monitors the humidity level in each chamber independently and delivers nitrogen only where it's needed, and only for as long as needed. This high-efficiency control generally results in nitrogen savings of up to 78% compared to conventional flowmeter systems. More importantly, it ensures reliable, documented, operator-independent low moisture levels.
For applications that don't require this multiplexed nitrogen control, select Terra's Dual Purge and NitroWatch® systems, which include a single humidity sensor per cabinet.
NitroPlex™ Humidity Control System
Desiccators equipped with the NitroPlex™ feature a display/sensor module and relief/bleed valve in each chamber. To order, select the part number of the desired cabinet. Then, order one NitroPlex™ module for each chamber.
---